Health regulations at Oléla
Here is the list of health regulations
everyone must abide by during their stay.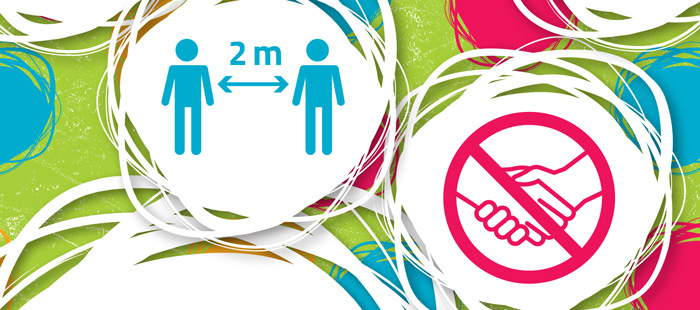 Many of you have been asking us about the health regulations you must follow during your stay. Here are the measures we have put in place, listed according to each site area, so we can do our utmost to ensure that everyone is effectively protected against Coronavirus SARS-CoV-2. These measures have been devised respecting our National Federation's health protocol.
Dispensers containing hydroalcoholic gel and soap will be placed in the various areas of our establishments for you to use at your disposal. Social distancing rules, preventative measures and health regulations specific for each area will be displayed on a sign. Please make sure you bring masks and a pen with you to carry out any formalities.
All of our staff have undertaken training to implement the required social distancing rules, preventative measures and cleaning and disinfection protocols. A COVID contact person has been appointed in each establishment.
The different areas concerned ?
Compulsory face coverings
Face coverings are now compulsory in all circumstances and in all areas, when social distancing (2 metre in front, behind, to the left and to the right) cannot be respected.

Upon your arrival
How to limit the time you spend in reception?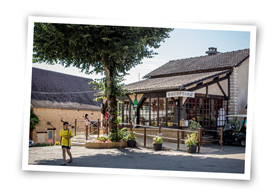 Before your arrival, you will receive an email inviting you to fill out the necessary information to register your check-in details.
To make your arrival official, outdoor welcoming stations may be set up (depending on the weather conditions and how busy it is expected to be). If this is not the case, it is unnecessary for a group of you to go to reception, one person is enough.
At the reception desk, you will be separated from the receptionist with a plexiglas counter window.

 
Your accommodation
What health measures are carried out before your arrival?
Your rental accommodation will be totally cleaned with virucide products EN 14476
It will also be aerated for a substantial length of time before your arrival.
The following will be systematically disinfected between two occupancies:
        - The mattress protectors and pillows,
        - The air conditioning filters (in the rental accommodations concerned),
        - All points of contact (handles, switches...),
        - The key for the accommodation.
For Premium and Prestige rental accommodations which benefit from a range of services, the beds will only be made upon request. Before your arrival, please contact us to let us know what you decide upon.
If you hire out bedsheets, we kindly ask you to take them off the beds at the end of your stay and to place them all together inside the pillowcases. You should then leave them outside of your rented property. The same applies for all of the household linen (towels, tea towels etc...)
 
The communal toilet and shower blocks
What are the new health precautions taken?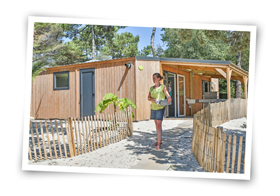 All of the sanitary facilities (sinks, toilets and showers...) will be cleaned at an increased frequency using virucide products EN 14476.
The pool facilities
Closed following government decisions of April 30, 2021.
Entertainment areas
The Amigo Club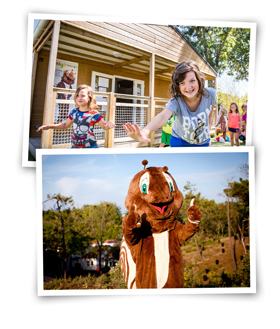 The frequency of the activities running will not change, however they will be adapted to adhere to the current health measures.
We are restricted to 10 children per activity.
As a result, signing up for the activity beforehand is essential. The 'Mini Club Board' app allows you to sign your children up during the time slots of your choice. The activity leaders will regulate the requests of each family to ensure everyone has equal access to the club. You can also sign up at reception if you do not have access to the app..
Activities will take place outside wherever possible.
The premises, equipment and points of contact will be disinfected between every activity session.
To avoid overly large gatherings of children, Amigo will do rounds of the site!
 

Family entertainment during the day and evening
All forms of entertainment have been carefully reconsidered to ensure they adhere to preventative measures and social distancing rules. Our activity coordination teams will be trained following the health protocol, and they will come up with imaginative ways to adapt the activity rules.
This is why some of our activity team members met in early to come up with an adapted programme. We will make sure we share any great ideas we have with you on our social network pages!
Leisure equipment
All hired equipment, such as bikes or equipment rented out at reception (ie: table tennis rackets…) will be disinfected after every rental.
Paper towels and disinfectant will also be available, so you can disinfect the equipment if you wish as an additional precaution.
The playgrounds will be disinfected daily (inflatables, slides, trampolines, swings etc…).
The restaurant area
Now more than ever, our teams will be trained in food safety and hygiene protocols.
Takeaway service
Use of single-use and biodegradable containers.

 
Sports infrastructure
The use of these sports facilities will be reserved for family practices, respecting barrier gestures and distance.
The fitness rooms and wellness areas are closed following government decisions of April 30, 2021.
Visitors
Due to the new COVID-19 health regulations, visitors* will not be allowed inside the establishment.
*amendment to article 8 of our internal regulations.
 
Dear Customers, 

In this new climate, it is normal for you to want to be reassured that we are committed to implementing current health regulations! All of our teams have been trained to respect and enforce the protocol project devised by the Fédération de l'Hôtellerie de Plein Air (the Outdoor Hospitality Federation). All of these measures will only be effective if everyone scrupulously follows these new lifestyle rules. Together, we will attempt to stop the virus in its tracks and we will learn to holiday in a different way!
I hope that after reading this, you feel totally confident that you can trust in Oléla for your next well-deserved holiday. See you soon!