Oléla is offering you 3 years' free holidays!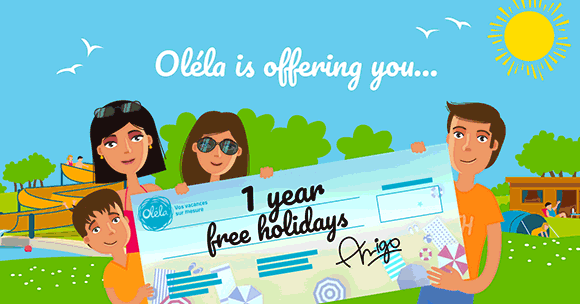 No... this isn't a dream!
Oléla is indeed offering one of its customers: 3 years' free holidays !
This has never been seen before!

How can you take part?
To have the chance to win in our prize draw, all you have to do is book a stay in an Oléla destination this summer between 06/07 and 01/09, either on a camping pitch (minimum stay 1 night) or in a rental property (minimum stay 2 nights).
The email address you use during your booking will be automatically entered into our grand prize draw; you don't need to do anything! The draw will take place on Friday 06/09/2019.
Deadline
If you haven't yet booked a stay with Oléla this summer, now is the time to do so! Choose your ideal destination, for a long weekend or an extended stay.
Act fast though, you only have until 14th July 2019 to make your booking for the summer, and have the chance to win 3 years' free holidays! Any booking made after 14th July 2019 will not be entered into the prize draw.
Did you make an Early Booking or simply book your stay a few days before this offer started? Don't panic! You have automatically been entered into the grand prize draw.
Go whenever and wherever you like for 3 years!
Oléla will send you 3 cheques to be used in 2020, 2021 and 2022 respectively. You will be able to book 1 or more stays each year in the accommodation of your choice. Imagine how your family will react when you tell them the good news...
It could be you...