Go and discover several regions!
Are you attracted to the coast? Walk along the Atlantic coast and discover several destinations in one stay! Each of these destinations will bring you its share of tourist wonders ...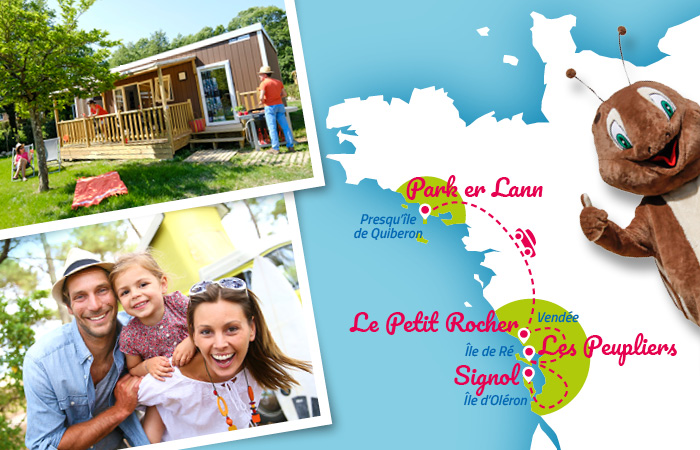 Up to -10%
+ administration fees offered
Example of a Stages Stay route
1st stage: Start your journey on the Quiberon peninsula (3 nights)
Choose the Quiberon peninsula to start your holiday. For this 1st step of the stay, you will stay at the Park er Lann*** campsite (Saint-Pierre-Quiberon). A Zen atmosphere just 700 m from the beach.
Recommended visits and discoveries ♡ : megalithic sites, the Turpault castle, discovery of the islands of the Gulf of Morbihan, visit of the medieval city of Vannes, tasting of galettes accompanied by cider from the Pays d'Auray...

2nd stage: Continue your journey in Vendée (3 nights)
The Vendée is the ideal destination for recharging your batteries, both for its mild climate and for the diversity of wealth that surrounds it. For this 1st stage of the stay, you will stay at the Le Petit Rocher **** campsite (Longeville-sur-Mer). A charming campsite located in the heart of a forest and only 150m from the beach.
Recommended visits and discoveries ♡ : Jard-sur-Mer market, initiation to surfing at Les Conches beach or sand yachting at Rocher beach, discovery of the Poitevin marsh aboard a boat, tasting of oysters at the Guitar ...

3rd stage: After a few days in Vendée, direction Île de Ré (3 nights)
After only 1.5 hours of driving, you will arrive on the Île de Ré. The Île de Ré, nicknamed "Ré La Blanche" because of the color of its houses, will charm you at first glance! You will stay at Les Peupliers **** campsite in La Flotte-en-Ré, one of the most beautiful villages in France.
Recommended visits and discoveries ♡ : La Flotte-en-Ré market reminiscent of the halls of yesteryear, discovery of Saint-Martin-en-Ré and the Vauban fortifications, bike ride to the Baleines lighthouse, lazing around in the Gollandières beach, observation of donkeys in panties ...

4th stage: To end on a high note, head to Île d'Oléron (3 nights)
Again a 1.5 hour drive to reach the last destination of the stopover. New island, new atmosphere! The Ile d'Oléron is nicknamed "La Lumineuse" because of its high rate of sunshine. There is nothing better than a breath of sunny sea air to end your vacation! You will stay at the Signol ***** campsite in a wooded 8 hectare setting 800m from the beach with a view of Fort Boyard. Children will be delighted to see this mythical Fort!
Recommended visits and discoveries ♡ : ride aboard a sailboat to Fort Boyard, Chassiron lighthouse, discovery of salt and marshes at the port of Salines, oyster tasting at Fort Royer ...
Information & booking on +33 (0)2 51 20 41 94
* Offer valid in all our establishments (according to their opening dates), for any stay of 3 consecutive nights minimum per establishment, in rental or in pitch. 10% discount except July / August and 5% in July / August). Non-retroactive offer but can be combined with any other current promotion and with our Oléla & moi Loyalty program.