Why choose Oléla?
When you choose Oléla,
your holiday meets your desires and suits your budget!

More flexible
With Oléla, you avoid the peak holiday traffic. You arrive and leave on the day of your choice, even in July and August! You choose how long you stay, to comply with your holiday budget and availability. Book on a night-by-night basis, even in July and August!

More activities
There's something for all the family to enjoy with Oléla!
Children aged 4 to 12 have their own club: the Amigo Club. A free children's club with manual and DIY workshops, mini-discos and other evening activities. They're even lucky enough to meet and have fun with our mascot, Amigo the snail.
To keep teenagers happy on holiday, our free club proposes activities specially designed for them. Daytime or evening, all the family can enjoy free activities and entertainment.

More services
Oléla proposes a number of services and facilities from Easter onwards: heated water parks with slides and amusing water play areas for children, catering areas with bars and snacks, grocery shops, sports facilities and wellbeing areas...


Lighter travel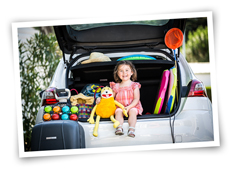 Do you always seem to have more holiday luggage than you can get in the car?
If you want to travel light and avoid stress, Oléla has a rental service for sheets, towels, bicycles, refrigerators, and many other items. It's all here waiting for you!