High Occupancy Range
Up to 6 bedrooms
Television
Dishwasher
Up to
12
A getaway for big groups!
Who said it was complicated to find accommodation for big families? Oléla has a wide range of high occupancy accommodation, designed for big families or groups of friends. The kitchens are fully equipped and the living areas are spacious and well laid-out.
Choose the accommodation that suits your family's needs: Family mobile home with 3 bedrooms, Generation mobile home with 4 bedrooms or the Tribu mobile home with 6 bedrooms.
 
Our Tribu mobile home, an original concept!
The Tribu mobile home is ideal for the whole family. There are two mobile homes facing each other, with a shared decking area in the middle. Everyone has their own living area and privacy. The idea is to group together on the covered decking area for some quality family time.
 
Hire everything you need on site!
It's not always easy to fit everything you need in the boot of the car, especially when you are a big family. That's why Oléla offers the possibility to hire everything upon arrival: sheets, towels, baby cot, barbecue, bikes, etc. Bookings can be made online or over the phone.
These big capacity rentals for big families are very popular with our holidaymakers, so make your booking today!
Image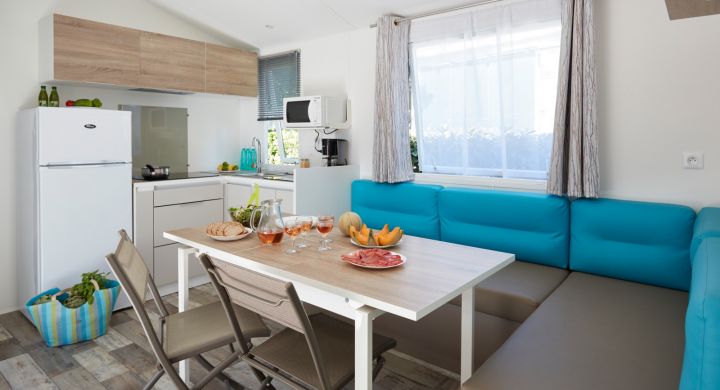 Image