The Oléla app

Your holiday helper!
The Oléla app is designed to provide you with useful information before, during and after your stay. Planning your holiday is easy with Oléla! Features include a packing checklist, details about all our services, an events calendar, tourist information, and much more. The whole family will love it!
Before you arrive:
Find detailed information about your stay (opening hours for services, etc.).
provide check-in details prior to arrival,
book extra equipment and services: sheets, end-of-stay cleaning, etc.,
sign your children up to the Amigo Club,
check your itinerary to get to the campsite...
 
During your stay: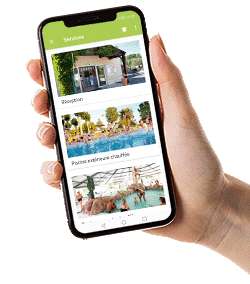 Check the programme of entertainment for the week,
check opening hours for services (swimming pool, reception, restaurant, grocery store, etc.),
find out about the local markets,
read about tourist points of interest and sports activities in the area, depending on your interests,
book a table at the campsite restaurant or order take-away dishes,
sign your children up to the Amigo Club...
 
After your departure:
Find out about all the Oléla destinations on offer for your next holiday, and keep the details of your previous stays!
 
Haven't made your Oléla booking yet? The app is useful for you too! Experience the atmosphere of each camping ground and discover the services provided. Learn about entertainment and activities and what to visit in the local area. Find all the information you need to choose your next destination!
Good to know! ?
100% free!
Activate all the app notifications for live information about Happy Hour, petanque tournaments, Amigo dedications, and much more. Everything you need for a fun holiday! ;)
Download the free app here: