Loyalty programme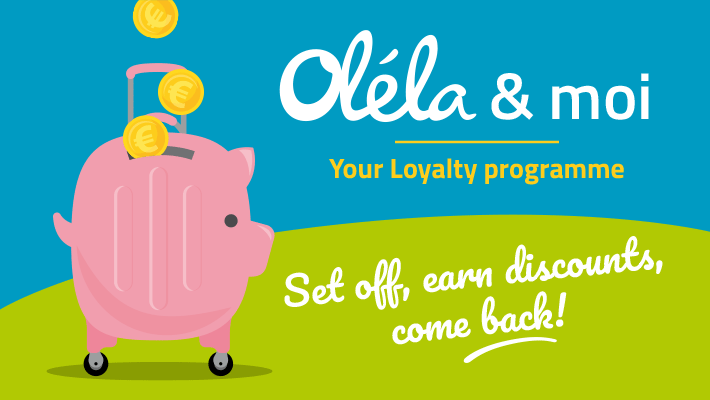 How does it work?
It couldn't be more simple! Every time you stay with Oléla, you add € to your Loyalty account. You can then use the money in this account from your 2nd stay onwards, at any Oléla destination.
Your Loyalty account:
40 € spent = 1 € discount
200 € spent = 5 € discount
800 € spent = 20 € discount
1200 € spent = 30 € discount
2000 € spent = 50 € discount
 
The amount of your Loyalty discount is calculated based on the amount you have paid for your accommodation: accommodation or camping pitch package + extra person/people.
For example:
You book a holiday with Oléla for one week in June. Your accommodation costs you 200 €. At the end of your stay, you'll receive a Loyalty discount of 5 €, to use on a future stay.
How can I use this discount?
At the end of every stay with Oléla, you'll receive in your online customer account your Loyalty account and a Loyalty code. This code is essential to be able to use your discount, so make sure you don't lose it.

For your next stay, you'll be able to choose between:
Using your Loyalty discount to reduce the total overall cost of your stay,
Using your Loyalty discount to treat yourself to an extra service or activity.
 
For example:
You spent 680 € on your 1st stay, giving you a discount of 17 € to use on your next stay. Thanks to this discount, you can treat yourself to a barbecue rental for a day + bath kit + kitchen kit. You'll be travelling light and saving money at the same time!
Terms and conditions of your Loyalty account
Valid for 12 months from the issuance date.
Can be transferred to any other person of your choice. You haven't had chance to use your discount? Why not let your loved ones take advantage of it! All you have to do is give them your Loyalty code.
Can be used in conjunction with  our other promotional deals such as: Early Bookings, overnight stays, etc.
Can be used online or by telephone on +33 (0)2 51 20 41 94, just make sure you mention your Loyalty code.
 
Consult our general terms and conditions of use.
 
As well as this discount,
You'll also be the first to receive all our great deals. Some rental accommodation and some periods of the year are particularly popular with our guests, but we'll make sure you get priority!


See you soon! ☀️